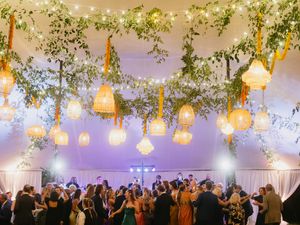 THE MIDWEST'S HIGH ENERGY PARTY BAND
FatPocket is the Midwest's highest energy party band featuring the hottest horns, powerhouse vocalists and a setlist that keeps you on your feet. This band will move your guests to the dance floor for a nonstop dance party until the house lights turn on.
No backing tracks, no sheet music and no "standing still" on stage, FatPocket is a band that brings back the LIVE energy of the 60s-80s to the Top 40 Chart Toppers of today. Unlike a traditional wedding band, the FatPocket horns and singers are up front partying with you and strutting their moves for a one-of-a-kind experience that will leave your guests in awe. 
If you are ready to take your event to the next level look no further than FatPocket, the Midwest's Highest-Energy Party Band!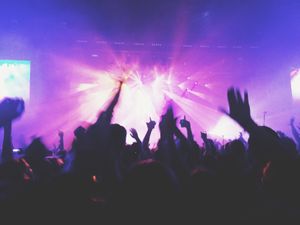 Weddings 
As a Knot Best of Weddings Hall of Fame band, FatPocket  excels at running a wedding. A favorite by top wedding planners, FatPocket  will keep your guests guessing as they weave through top hits, both new and old throughout the evening. From the Motown classics you just "gotta" have to the "late night sing-a-longs" and inevitable encores, FatPocket will make sure you have the best celebration of your life. If you want to book the best wedding band around, look no further! 
Fundraisers/Galas 
Nonprofit events are a specialty of the band. Having played for hospitals including SSM, Mercy and Cardinal Glennon, nonprofits including Great Circle, Nurses for Newborns and Concordance Academy, the band knows how to throw a great party while aligning their lyrics and performance style to your mission. FatPocket will make your donors want to keep coming to your event year after year!
Corporate Events 
With corporate clients including Taubman Outlets, World Wide Technology, the St. Louis Cardinals, and more, FatPocket knows how to bring a wide demographic of coworkers to their feet. With high interaction coming from the stage, we'll help you get your team to come out of their shells. For those who don't wish to dance, they'll still experience an amazing show! Our show includes a little something for everybody so no guests feel left out. 
 
Clubs/Casinos
FatPocket got its start playing at clubs, festivals and casinos. With a loyal following, we are a guaranteed packed house any night of the week, any time of the year. People who haven't heard us before will stick around and ring their bar tabs till the early hours of the morning and we'll make sure your regulars stay that way. With a bit more edge than our private events, will give you everything we've got! 
What You'll Get 
A high energy, rehearsed band of full-time members
The hits from the 60s to what's on the radio today
Professional sound and lights 
Unlimited Emceeing 
Wireless microphones for toasts/announcements
Complimentary DJ'ed music for dinner 
Special songs learned for no additional fees 
The best night of your life
Options to add additional horns or a turntable spinning DJ
Awards 
2011 - St. Louis Mag A-List Party Band 
2016 - Riverfront Times Best Cover-band 
2017 - Riverfront Times Best Cover-band 
2018 - Knot "Best of Weddings" 
2018 - St. Louis Mag A-List Party Band (only 2 time winner!)
2019 - Knot "Best of Weddings"
2020 - Knot "Best of Weddings"
2021 - Knot "Best of Weddings" and "Hall of Fame" 
2022 - Knot "Best of Weddings" 
2023 - Knot "Best of Weddings"